Meet Nathan
The values I've learned here have shaped my life working for Bloomington.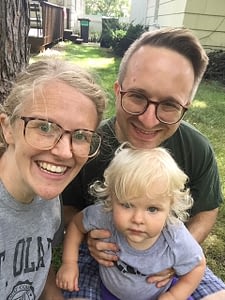 I've lived in Bloomington my entire life, and I'm proud to be a product of our Bloomington Public Schools (Ridgeview, Oak Grove, Olson, and Jefferson). My Mom taught math at Normandale Community College for 39 years, and my Dad was a self-employed real estate attorney (who someone once described to me as "the last honest attorney") with an office just off 90th and West Bloomington Freeway. My parents still live in the house I grew up in near Hyland Greens, and I live near Old Town Hall with my wife, Charity, our two-year-old daughter, Eleanor – who's a big fan of the playground at Brookside Park – and we're expecting Baby #2 this summer.
I earned my BA in Music and Political Science from St Olaf College, and my MPA in Health, Housing, and Education Policy Leadership from the Humphrey School of Public Affairs at the U of M. By day, I work as a Legislative Assistant at the Minnesota Senate, working for and with our Bloomington legislators on local issues like state funding for the 494-35W interchange and a sales tax exemption for the new Fire Station, as well as health care, human services, and local government.
Serving our community is a joy and a privilege – and I will never take it for granted.

I currently serve as the Bloomington City Council's representative on the 169 Corridor Coalition, working with other local officials from Hopkins to Mankato on transportation and infrastructure needs, and the State Community Health Services Advisory Committee, to ensure that our community's voice is heard by decisionmakers on state health policy. I previously served on the Bloomington Housing and Redevelopment Authority, and the Board for the Perpich Center for Arts Education, was a Sunday School teacher at Mt Olivet Lutheran Church in Minneapolis for nine years, and have sung in two different barbershop quartets.
Whenever anyone asks me what it's like serving on the City Council, I always start my response with "It's a ton of fun" – and I continue to believe that. We no doubt live in challenging times, but having the opportunity to serve my hometown on the City Council, to work hard to take care of our neighbors to make things better is really the best job I've ever had (after being a dad and husband, of course). I'm proud of the work we've done and eager for the work we have ahead of us.
Why I'm Running

I'm running again because I have never felt more strongly about the potential within our community. We've seen countless times over the last few years, in the face of challenges that I don't think any of us expected, how our neighbors have stepped up again and again to support each other, take care of each other, and listen to and learn from each other. We know we'll face more challenges in the future, but there is no group of people that I'd rather face them with than the folks right here in my hometown.
I'm running again because we are going through an unprecedented time of change. Bloomington is changing quickly, and in ways that are very different than what we've experienced in thepast. Our people are changing – we're older, but also more racially diverse. Our physical environment is changing – our roads, parks, and infrastructure are aging, and we're becoming denser and more urban. Our economy is changing – we're less a "bedroom community" and increasingly an engine for big companies, small businesses, and workers at all income levels. I once heard someone say that "The thinking that got us where we are today will not be the thinking that gets us where we need to be tomorrow". When we think about the issues we'll confront, like our budget, our parks system, street and infrastructure maintenance, housing, environmental sustainability, economic fairness, and racial and social equity, that belief is becoming clearer with each passing day.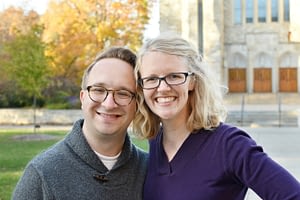 I'm running again because I care so deeply about our city. This is the city that raised me and my sisters, employed my parents, and is now raising my family, too. I know that a large part of my success, and our entire community's success, is owed to the leadership that came before me and put us in the strong position that we're in. Bloomington has a long history of thoughtful, responsible leadership that hasn't been afraid to be bold. I'm excited to see what the future holds for Bloomington, and I know that our neighbors care deeply, too. I'm ready to get to work.
Issues
Budget and Taxes – Budgets are the truest expressions of our values – what we invest in shows what we care about. We also can't separate what we're paying from what we're paying for. I continue to believe that our community, and our people, are a good investment, and we will see great return if we invest in the right things. We also need to recognize that the biggest source of funding cities have is often unpredictable and regressive. Property tax increases tend to hit hardest those who can least afford it. Last year, the City Council appointed a Community Budget Advisory Committee to sort through the data and make recommendations for how to approach the budget crunch we faced. I look forward to finding new and creative ways to ensure that the broad array of needs, wants, and ambitions in Bloomington are reflected in our budgets.
Racial Equity – The disparate impact of COVID and the murder of George Floyd brought the reality of racism and racial inequities into stark focus. Those two events, though, are only the most recent symptoms of a much longer illness. The numbers bear out the truth that by all kinds of measures – health, education, income, home ownership, access to amenities – race matters. We are long past the point of treating institutional and structural racism as something that either doesn't exist or is a coincidence. We need to continue taking real action. The Bloomington City Council has recognized this by adopting an internally-focused Racial Equity Business Plan, and by declaring racism to be a public health crisis. We have invested resources in this important work, and we owe it to our neighbors, and our future, to move forward.
Parks – Parks make up around 30% of the area of Bloomington, and our neighbors are rightly very protective of them. Parks are centers of community, a matter of quality of life, and a hugely important asset to residents of all ages. Ensuring that our parks serve our neighbors and reflect the reality of life in our community now and into the future is of utmost importance. With our new Parks System Master Plan completed, we'll have the potential to shape our parks for decades to come. I remain dedicated to ensuring that future generations can enjoy our parks as much as my family has – and still does.
Housing – There is nothing more central to peoples' lives than having a safe, affordable place to call home. We also know that for too many here in Bloomington, and around the Twin Cities metro, that is not a reality. As we continue to develop as a city, we need to acknowledge that a diverse array of housing options is key to building our future. The future of housing in Bloomington looks very different from its past, and presents many opportunities to think creatively about our city. In 2019, the City Council adopted our Opportunity Housing Ordinance, which has revolutionized the way that cities think about addressing the affordable housing crisis, while also providing developers the tools needed to do the things we need them to do. We must continue to refine and refocus it on unmet needs, and address other supports that we can provide renters and homeowners alike.
Public Safety – Public safety is a core basic service of city government, and it's something that folks in Bloomington absolutely need to be able to rely on. Ensuring that our Police and Fire Departments have the resources they need to keep our community safe is a top priority. We need to be clear, though, that no City department gets a blank check, and that accountability is important for everyone. We need leaders who aren't afraid to ask the tough questions and think boldly about how we can serve our community. I know that every officer in the BPD and every firefighter with the BFD cares deeply about our city, and wants to do their best. We also need to be clear-eyed about the fact that for many in our community, particularly people of color, a run-in with law enforcement is not always a positive experience. I look forward to working with our new Police Chief to have conversations about proactive accountability and ensuring that everyone who lives, works, or even just drives through Bloomington knows they are safe.
Government Accountability and Accessibility – We know that a lot of things that the City does, and how many decisions get made, aren't always clear or obvious. As residents and taxpayers, we have the right, and I'd say the duty, to know what's going on, and to ask important questions of our City officials. While there is more we can and should do, I'm proud of the steps the City Council has taken, and that I personally have taken, to bring more folks into the process of governing. In 2020, the City Council began holding our Study Sessions in the Council Chambers, and broadcasting them just like Regular Meetings. This year, we've essentially made Study Sessions a part of our Regular Meetings. I have always personally responded to emails (usually within 24 hours) and phone calls, and have never shied away from having conversations with residents. I've also held nine Community Conversations with Councilmember Coulter (including two done virtually), and proactively reached out "just to chat" with hundreds of our neighbors in all 32 of Bloomington's precincts – most of them right at their doors! I'm always eager to find new and creative ways to connect with folks and hear directly from them about their thoughts and concerns.
Supporting Businesses and Workers – Cities have a large role in economic development and business. Businesses large and small have homes here in Bloomington, and the City needs to be sure that we're doing what we can to ensure those businesses are able to thrive. I'm proud of the work that the City has done to make the process of opening a restaurant easier, and of course, to pave the way for brewpubs and taprooms! We also need to be doing what we can to support the workers who make those businesses what they are. As our economy becomes increasingly based on service sectors like bars and restaurants and hotels, it's better for all of us if workers are supported. This means fighting for labor standards in development and construction jobs, ensuring that the incentives the City provides are doing the most good, and having the backs of lower-wage workers who often don't have the benefits that many of us take for granted. I have led the charge for an Earned Sick and Safe Leave ordinance in Bloomington, and I will always be an advocate for fair labor practices and stronger benefits. The more people who are able to realize a fuller measure of opportunity, success, and stability, the stronger our overall economy will be.